NEW Ocah FSOT and ISO Forum.

If you have an Ocah carrier that you are wanting to sell or trade, or if you are ISO an Ocah Carrier, we now have a dedicated forum on our Facebook page where you can post details of the carrier that you have available FSOT or provide details on your ISO. The Forum can be found by visiting our Facebook Page here

http://www.facebook.com/ocahbaby and click on the button "Pre-loved Ocahs FSOT"
**UPDATE**  if you are having trouble accessing this forum on your mobile device or phone, log on to your Facebook account through Safari or another mobile internet browser and you should have no problems in accessing the froum. 
So if you have a Ocah carrier that you are not using anymore, please do pay the forum a visit.

*Please note there are a few simple Forum Rules that we ask users to observe when participating on the Ocah FSOT forum.

This new Ocah Forum is for FSOT items and ISO only, it is not a discussion forum.


New email address.

We finally got around to changing our email address ! you can now contact us at: hello@ocah.co.uk


New Postal Address :

Our postal address has changed ! Back in July I finally moved into a new studio back home and I am happy to once more be a WAHM.




The postal address for Ocah is :

Ocah

4 Hollow Road
Anstey
Leicester
LE77FQ





New Approach to allocating Custom slots.



After many different attempts at finding a fair way to allocate custom slots we have for now settled on allocating all slots through a random draw. The details of how we operated this new system can be found on our blog here:
http://ocah.typepad.com/carriers/201...-approach.html
The Next Custom slots will be available as follows:


We are currently completing Custom orders for September and then in October we will be sewing an order for an online retailer and so we will be taking names to be included in the draw for carriers to be sewn in November
f

ro

m 10am on October 8th through to 12pm on Tuesday 9th October.
Those people that have be successful in securing a custom slot will be notified by 8pm on Tuesday 9th October.

For the full term and conditions please refer to the information at the end of the post here:
http://ocah.typepad.com/carriers/201...-approach.html
Ring Slings:


You do not have to wait for a Custom slot to have a Ring sling Sewn.


The details of the Ring Slings that we can sew are detailed here:
http://www.naturalmamas.co.uk/forum/...ah+ring+slings
* Please note the SBP style pleated shoulder is an orginal design of Jan Andrea of Sleeping Baby Productions and is sewn with her kind permission.


Simply visits the Ocah Bigcartel Store here and purchase the type of Ring Sling that you would like to have made.


Once we receive notification of your payment we will send you an online order form for you to fill in with the details of how you would like your Ring Sling to be sewn.


We aim to have your ring Sling sewn and sent back to you within 48hrs of receiving your wrap just as long as we have the Rings that you have chosen instock. If we need to order Rings for your Ring Sling order it can take up to 7 working days to complete your order.

If your Ring Sling has been made from a longer wrap we are happy to re-hem the left over wrap free of charge but there will be an additional cost to send the wrap back to you.



Chopping and Hemming wraps - its Free !

We continue to provide our wrap hemming service free of charge, you will simply need to pay for the postage cost to return your wrap back to you.


If you have a wrap that is too long for you that you would like to have shortened or if you are planning on sharing a wrap with another Mama you simply need to email
hello@ocah.co.uk , we will ask you to send your wrap to us with a note with

exactly how long

you would like your wrap to be hemmed along with your name and address . We will also need your PP address in order that we can invoice you for the postage cost. Wraps are chopped, hemmed , and posted within 48hr of them arriving at my studio.




Donations for Sling Libraries.


I am sorry but we cannot provide free carriers to Sling Libraries at this time. We do occasionally have small items that we can donate from time to time so please do feel free to ask if you are a Sling library raising funds.


Wrap Scrap Sewing.

We have introduced a number of small wrap scrap items to our range. Key fobs are available in our Bigcartel store here we have been making these since June 2011, new for 2012 Keyfobs with Silver Charms or a Wooden Ocah button .





Wrapbits. A small range of limited Edition Rabbits made using Linen Fabric and Wrap scraps, these are child firendly and perfectly safe for teething babies. More details can be found here




Headbands. These are available from time to time through our bigcartel store. We are happy to make these to order.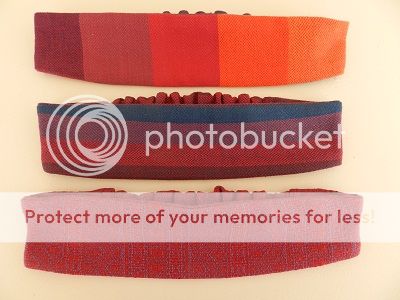 Wrap scrap bunting. We still have some sets of these left if anyone is wanting to decorate their house or garden. Details here



Ocah Fundraising.


So far this year we have quietly donated over £1300 in raffle prizes, carriers for good causes, and to families in need. We couldn't have done this without the support of Vendors both here in the UK and in the US as well as the many generous people that have supported our fundraising efforts so far this year. Thank you, your support has made a huge difference to so many people.

We will continue to raised funds for good causes throughout the remainder of 2012 so keep a look out on the Ocah Facebook Page and the Ocah blog for more details of how to get involved.


Phew , think that is it for now.

Kerry & Carla

xx